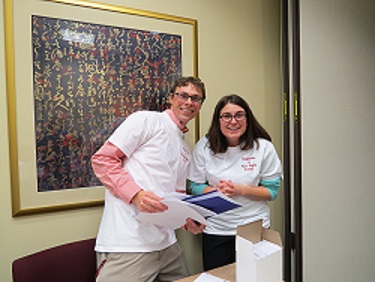 Welcome to the Open Cities Health Center Eye Clinic
Our eye doctors specialize in exams for any condition or eye disease. We have the most up to date equipment and technology to care for all your visual needs. As a non-profit clinic we have a sliding scale fee for any uninsured patients to make their care affordable regardless of their reason for needing an eye exam.   Please see some of our links below that can provide you with more information regarding some of our services.
If you need of an interpreter they are available in any language upon request.
Glasses
Not seeing as clearly as you can, may impact performance at school or work, cause eye strain and headaches. As part of your eye exam, we will evaluate whether you will benefit from glasses. There are many types of glasses including lenses to correct for distance (such as driving), for near (reading), or both. We are happy to provide you with your glasses prescription that you may bring to any optical to be filled.
Types of Contact Lenses
Soft Contact Lenses
These are a great option for most patients, soft contact lenses can correct for astigmatism, near sightedness or far sightedness. Depending on your needs, your doctor may prescribe a daily disposable or monthly contact lens.
RGPs or Hard Contact Lenses
These are more rigid and smaller than soft contact lenses. Depending on your prescription, RGPs may provide more clarity compared to soft contact lenses, your doctor will discuss with you if you are a good candidate for hard lenses.
Sclerals
This is a type of contact lens that is larger in size than a soft lens, it is typically used to treat dry eye or for irregular shaped eyes.
Your eye doctor will evaluate your eyes to determine the best type of contact lenses for you based on your prescription, lifestyle and how you will be wearing them. We will provide training and education on how to insert and remove the contact lenses and how to best care for them.
Order Contact Lens Online
Did you know that you can get a good deal on contact lenses that are bought through our preferred provider? Ask about it the next time you're in for a check-up!
For those of you who already are buying your contacts through our preferred provider, you may do so here.
We accept walk-in urgent eye care any day the clinic is open. If you are experiencing red eyes, vision loss, or need foreign body removal, please call our clinic appointment line to be seen immediately.
An eye exam can detect diabetes by dilating the colored part of the eye and looking at the structures inside. When we evaluate the blood vessels within the eye, it gives us a good idea of how blood sugar is affecting the rest of the body. With diabetes, it is important to have a dilated eye exam to make sure if there are changes related to blood sugar, and if eye treatment is necessary that it is done promptly. We will provide a letter back to your endocrinologist or primary care doctor the results of your eye exam.
Vision therapy may be indicated if you are suffering from an eye teaming, eye tracking, or focusing conditions. Vision therapy involves both the eyes and brain. Vision therapy usually involves several visits, similar to physical therapy or occupational therapy in which an individualized treatment plan is tailored to your needs. Vision therapy may be solely necessary to help remediate a condition or may be adjunctive to eye misalignment surgery.
Open Cities Eye Clinic Providers are all part of the InfantSEE program which allows for a 1 time vision assessment for infants between the ages of 6-12 months. Children are not always aware that they are unable to see correctly, nor are they able to communicate any difficulties with their vision. It is important to identify conditions that may impede learning and sight for life.
Eye exams are not the same as a vision screening. Parents may fall under the pretense that their child's vision is adequate after having a vision screening performed at the doctors office or at their child's school. An eye exam encompasses more testing that can help detect not only sight, but also other eye conditions which may prevent them from learning. In fact, 1 in 4 children have an eye and vision condition that may be affecting learning and may miss the equivalent of 135 days of school content each school year (Health Policy Institute, American Optometric Association).
Our providers recommend regular comprehensive eye exams at 6-12 months, again at age 3, at age 5, then yearly after. As children grow, vision changes may take place and it is important to address any issues right away to avoid interference with learning.
Visual symptoms are common after concussion or brain injury, in fact studies show 90% of patient ith brain injury have visual dysfunction (NORA). These may include symptoms of double vision, blurred vision, eyestrain, blinking excessively or not enough, tracking and reading eye movement problems, side vision defects, eye teaming and eye focusing problems, and light sensitivity. Treatment for conditions may involve spectacles, tinted lenses, prism, or vision rehabilitation.
We are able to complete diagnostic testing for the patient and refer them back to you, or co-manage depending on your preference. Here is a list of the equipment we have at our office:
Anterior and Posterior Segment Optical Coherence Tomography (OCT)
Visual Fields
Anterior and Posterior Segment Photography
Topography
Wavefront Abberometer
Meibomography
Services Available:
Vision therapy
Traumatic brain injury vision therapy
Low vision rehabilitation
Scleral and RGP contact lenses
Punctal plugs
Amniotic membranes
Foreign body removal
Infant and Pediatric eye exams
Co-management and post operative care
Our eye doctors will work with you to determine if any medications are needed and which medications would be the most appropriate. Since we are a non-profit clinic our doctors have access to a program through local pharmacies to help reduce the cost of medication. This is called the 340B program.