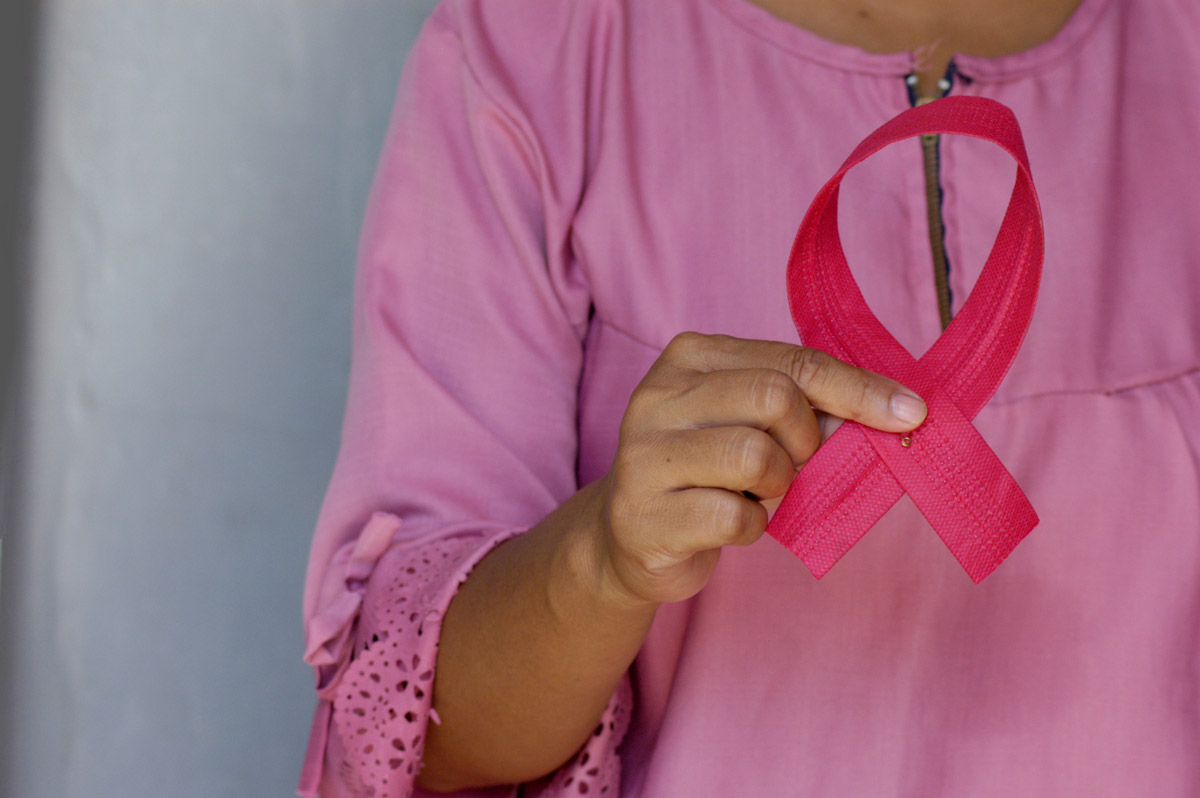 October is Breast Cancer Awareness Month
First things first. One assumption about breast cancer is that it is gender specific. However, that is not so. While the risk of breast cancer is much lower in men than in women, men are not immune. The lifetime risk of getting breast cancer is about 
1 in 833 in U.S. men 
compared to 1 in 8 for U.S. women.
What is Breast Cancer exactly?
Breast cancer is a group of diseases in which cells in breast tissue change and divide uncontrolled, typically resulting in a lump or mass. Most breast cancers begin in the lobules (milk glands) or in the ducts that connect the lobules to the nipple.
Signs and Symptoms
The most common physical sign is a painless lump. Sometimes breast cancer spreads to underarm lymph nodes and causes a lump or swelling, even before the original breast tumor is large enough to be felt. Less common signs and symptoms include breast pain or heaviness; persistent changes, such as swelling, thickening, or redness of the skin; and nipple changes, such as spontaneous discharge (especially if bloody), scaliness, or retraction. Any persistent change in the breast should be evaluated by a physician. Women are urged to routinely do at home breast exams. However, men are not typically encouraged to perform these screenings so it is critical that they see a physician if they notice any changes in their breast tissue area. In most cases abnormalities from screenings such as a mammogram prompt further testing. If further testing is required (breast MRI, diagnostic ultrasound etc.) it will be based on the recommendations of the radiologist.
Impact and Disparities
The American Cancer Society's 2019-2020 Breast Cancer Facts & Figures report states that the overall rates
of breast cancer have dropped significantly over the past three decades. This trend extends to the mortality rate across demographics as well. From 2008-2017, mortality from breast cancer declined for both white women and black women (by almost 2 percent per year). The decline in breast cancer mortality has been attributed to both improvements in treatment and earlier detection. However, not all women have benefited equally from these advances, as indicated by the striking divergence in mortality trends between black and white women beginning in the early 1980s. Breast cancer mortality is about 39 percent higher for black women than white women.
The Importance of Raising Awareness
This disparity is not easily explained as it is a set of complex factors involving access to information and resources, systemic discrimination, lifestyle and genetic factors. However it is clear that raising awareness about breast cancer and promoting regular self exams and screenings to under-served populations is critical to early detection and intervention, treatment, and ultimately will save lives.
Resources and Tools 
Websites to learn more about breast cancer and local resources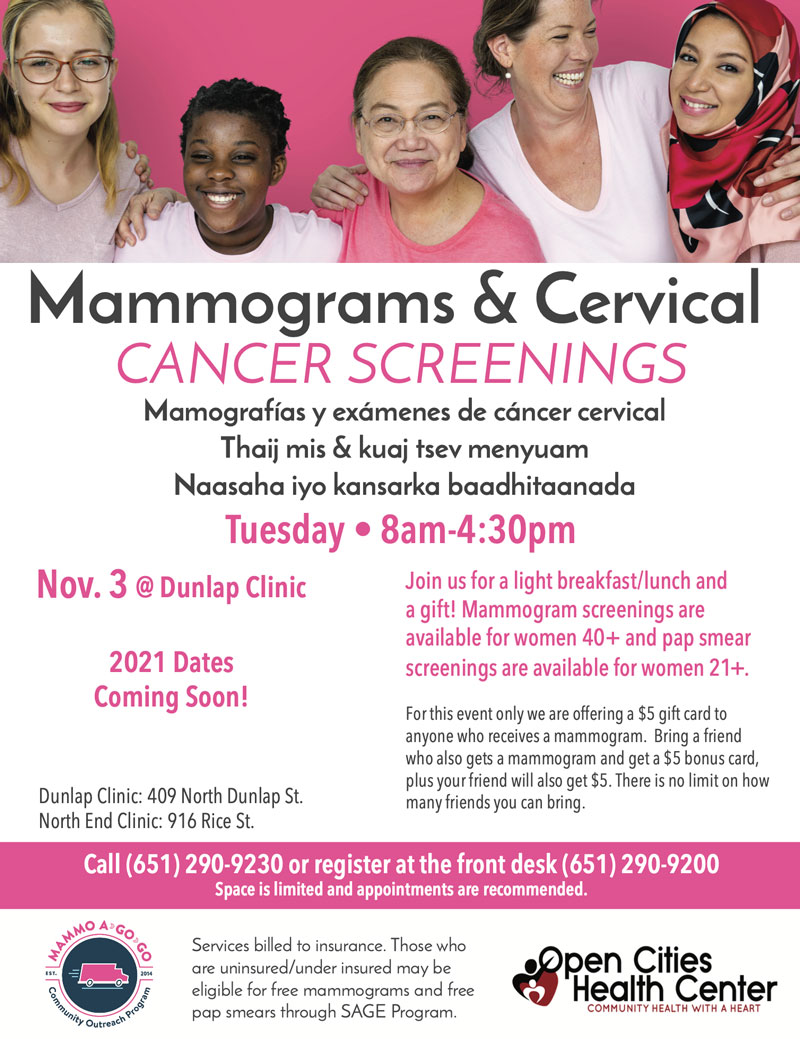 House kicks off series of hearings on racial justice issues
By Mike Cook


photo/chlss.org
The MN House of Representatives has created a new Select Committee on Racial Justice that meets the 1st Tuesday of every month to discuss the disparities that racism creates and actionable steps. They have invited the community to share their thoughts and suggestions Tuesday October 14th at 1pm streaming live on the House website or Facebook Live. Insight News shares more about what the bipartisan group will be working on in the weeks to come.
"While we know we cannot undo over 400 years of systemic racism in a single committee, this committee is an important first step forward."
-Committe Chair Rep. Ruth Richardson (DFL-Mendota Heights)
St. Paul experiments with guaranteed incomes
By MSP News Online
photo/City of St. Paul
The Mayor of Saint Paul launches the People's Prosperity Pilot. The pilot will provide up to 150 families guaranteed income of $500/month for up to 18 months. It is unconditional, with no strings attached and no work requirements. A guaranteed income is meant to supplement, rather than replace, the existing social safety net and can be a tool for achieving racial and gender equity. Check out this article on the Minnesota Spokesman's Recorder website for details about the program.
"Our city has the chance to help both our residents in a crisis and contribute to national research that could restructure a more fair economy for all."
-Ward 4 Councilmember Mitra Jalali

For those that currently support the work of Open Cities with a recurring gift​, please accept our deepest gratitude​. Never has your donation been more vital in ensuring we can carry out our mission each and every day. We truly appreciate your commitment to the clinic and​, most importantly​, to the patients that we serve!
Connecting with our patients and meeting the needs of our community is at the core of everything thing we do here. Whether we are helping someone grieve the loss of a loved one, providing chiropractic care​ ​after an accident, or ​ensuring high-risk women have healthy babies​, ​we will continue to be nimble and flexible in our approach – while maintaining safety as a priority. The community's response to our COVID-19 drive-up testing clinic and telehealth services has been significant. We are on the front lines everyday​, doing work that has a tangible impact.
If you have not joined our recurring giving program, Givers with a Heart​, ​please consider taking that step today! Every giving level has a few tokens of gratitude from us at Open Cities. They are also a way for you to proudly display your support of Community Health Centers! Pick your giving level by looking at the tiers below.
Thank you for joining forces with us! The future looks a little brighter with you on our side.
Recurring Donor Levels
ALLY: $5 monthly gift:
Pen, Sticker, Impact Packet
SUPPORTER: $10 monthly gift:
Pen, Sticker, Impact Packet, Magnet
FRIEND: $25 monthly gift:
Pen, Sticker, Impact Packet, Magnet, Mug
ADVOCATE: $50 monthly gift:
Pen, Sticker, Impact Packet, Magnet, Mug, Tote bag
CHAMPION: $100 monthly gift:
Pen, Sticker, Impact Packet, Magnet, Mug, Backpack

Welcome!
Blanca Aguirre, Optometric Assistant
Dr. Sarah Maier, Family Medicine Physician
Abigail Boadu, MNSure Navigator
Farewell!
Anna Flowers, Optometric Assistant