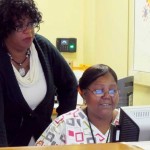 Open Cities Health Center (OCHC) accepts all patients, those who are insured and those who are uninsured. Listed below are the insurance programs OCHC accepts.
Insurance programs that OCHC accepts are listed below:
Medicare
Medical Assistance
UCare
HealthPartners
Medica
Blue Plus
Blue Cross
PreferredOne
Most private insurance
OCHC also has Health Navigators to help you with the MNsure enrollment process. Call  Albasha at (651) 290-9231 and Isha at (651) 290-5987
Don't have insurance? Don't worry.
If you do not have insurance, the clinic offers a sliding fee scale for low-income and uninsured or under-insured patients. A brief explanation of the sliding fee scale is also offered below.
Sliding Fee Discount Program
Payment schedules are established by income and family size. Billing staff works with patients to place them on a payment plan. No patient is denied service because of his or her inability to pay.
Download the Sliding Fee Eligibility Application & Guide (PDF)
For information about OCHC's insurance and sliding fee discount program call: (651)290-9200.