When:
September 20, 2017 @ 5:30 pm – 7:30 pm
2017-09-20T17:30:00-05:00
2017-09-20T19:30:00-05:00
Where:
Rena Moren's Home
671 Aurora Ave
St Paul, MN 55104
USA

Free event. No advanced registration needed!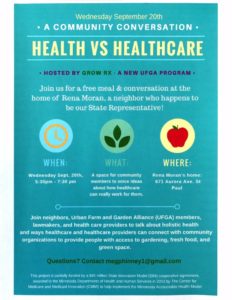 What do FRESH FOOD, GARDENING, and GREEN SPACE have to do with HEALTHCARE?
We believe that community members can help drive effective solutions to preventable illnesses by providing a community voice within hospitals and clinics. Through a series of 3 conversations we will be creating a space to examine and explore the impact, benefits, and potential community solutions for better community member health with a discussion around the idea of healthcare, healthcare providers, and healthcare insurance providing their clients with a more direct connection to fresh food access, land access and resources for urban gardening, farming and physical exercise.
Please join us for the first of three community conversations about a more holistic view of illness and health and how communities can have more ownership of their healthcare!
Be a spark for a HEALTHCARE PARADIGM SHIFT!
Questions? Contact megphinney1@gmail.com.
This event is thanks in part to Melvin Giles, Megan Phinney and our own Open Cities staffer – Maddie Young! We appreciate your leadership!